OUR PROGRAMS
The Peggy Kirk Bell Girls Golf Tour is more than just a golf tournament.  Founded in 2007 by Girls Golf of America, as a local girls' golf tour and LPGA-USGA Girls Golf program in the Triad region of North Carolina.  The tour began as a simple concept: create more effective competitive playing opportunities for girls. By utilizing innovative yardage-based divisions instead of the traditional age-based format, the tour focuses on developing tournament experiences at the players pace.
In 2021, the PKBGT will feature over 1,200 members and operate over 125 tournaments in 11 states across the East Coast and midwest.  PKBGT championship events rank as some of the top 30 ranked girls' events in country.  Learn more about the PKBGT at pkbgt.org.
The PKBGT creates a defined pathway on top of the existing "grow the game" initiatives to compliment current investments to build a sustainable growth model for girls golf, filling "The Missing Link" in grow the game investments.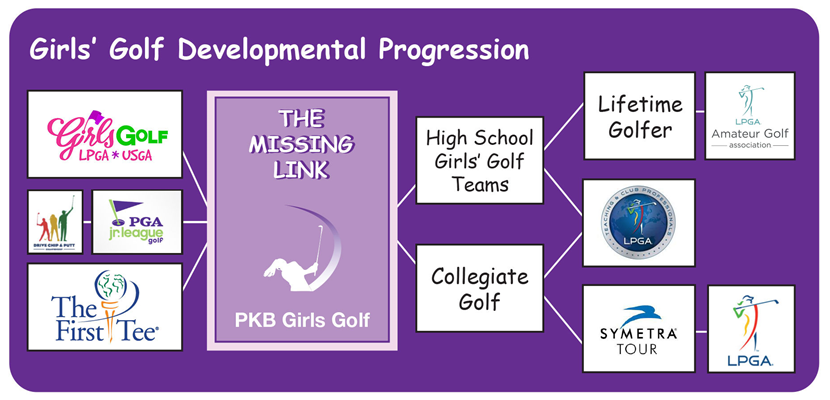 The PKBGT competition framework provides regional and national competitions for players ready for individual competition.  Yardage, difficulty and level of compete are added along the pathway to guide a players development and create an atmosphere of player improvement and self-confidence.
The PKBGT is a competition community driven by innovative yardage and skill-based divisions to maximize retention, success, & development:
MORE SUCCESS minimizes frustration and feeling out of place
COMMONALITY WITH PLAYING PARTNERS creates a comfortable social environment for teenage girls
A WELCOMING ATMOSPHERE for girls of all skill levels, ranging from beginners to elite players, with similar goals and dreams
Development programs make the PKBGT experience "MORE THAN A GOLF TOURNAMENT"
Learn more about the
Peggy Kirk Bell Girls' Golf Tour
CARRYING ON THE LEGACY OF PEGGY KIRK BELL
Fearless. Courageous. Adventurous. A Trailblazer.
These words only begin to paint a portrait of 2019 World Golf Hall of Fame Inductee, the late Peggy Kirk Bell. A teacher, a pilot, a business owner and a charter member of the LPGA – Mrs. Bell never backed down to a challenge and spent her life defying the odds.
But take a closer look and you see that her accomplishments resonated deep beneath the surface. Mrs. Bell did not set out for fame and fortune, she did not bask in her personal success and the historic feats she attained. She was a pioneer for women's golf – not only forging a successful path in a male-dominated industry for herself, but constructing the foundation of opportunity for the millions of women to follow.
On the course, Mrs. Bell set out to transform professional golf into a legitimate career path for women across the country grinding it out on the amateur circuit. She did just that in 1950, serving as a charter member of the LPGA. Mrs. Bell was always flying high above the rest, especially in her personal airplane when piloting to and from events on the tour. No one could stop Mrs. Bell from accomplishing her goals.
More impactful than her professional career on the tour, Peggy opened doors as one of the top female instructors in the country, understanding the importance of a female-only environment when introducing women to the game. Along with her husband Warren, Mrs. Bell purchased Pine Needles Lodge and Golf Club to provide a place for all golfers, both male and female, to play golf and have fun doing it – a philosophy she strongly embraced.
Bell's "Golfaris", which began as female-only clinics led by female instructors, created a welcoming environment for women to learn the game without feeling intimidated. She instilled confidence in women to redefine the sport, erasing the connotation of a "man's game."
Her legacy lives on through the Peggy Kirk Bell Girls' Golf Tour, allowing over 800 girls to compete at the collegiate level and providing a platform for over 900 members to grow and develop on the largest girls'-only tour in the country.
Providing positive yet competitive golf tournaments in a girls-only environment, the goal of the Peggy Kirk Bell Girls Golf Tour was a vision that piggybacked off Ms. Bell's Golfaris, which still take place at Pine Needles today. Serving as an ambassador for women's golf and our tour matriarch prior to her passing, we carry out Ms. Bell's legacy at all-girls' tournaments across the country: enabling junior girls' golfers to make friends, compete against the best, and establish life skills that transfer beyond the course.
The impact she made on women's golf and her historic legacy will be celebrated.
Ms. Bell paved the way for hundreds of women to live out their dreams – whether it was to be able to play alongside colleagues on the golf course, win their club championship, or compete on the LPGA Tour. Help the PKBGT shape the next generation of female golfers and carry on the legacy of Mrs. Bell by joining us as we strive to create 1,000 girls-only golf tournaments across the US to help more junior girls continue to break barriers  #LikeMrsBell.
Become a member of
Girls Golf of America